2013 VP: Chris Klement email: CKlement@unum.com


Congratulations to the 2013 Majors Baseball Champs - Eagles!!!
The Westbrook Eagles won the 2013 City championship by defeating the Dairy Queen 10-9 before a large crowd at the little league complex on Sunday evening. One of the most competitive and exciting games of the season featured nine lead changes during the six innings of play. Trailing by a run in the top of the 6th, Michael Young led off the inning with a clutch base hit and with determined base running, scored the tying run. Colby Haynes, who reached on a hard hit ball that was ruled an error, scored what would be the winning run with aggressive base running as well. Dairy Queen, the defending champions, hit the ball well in the bottom of the sixth, but the Eagles made the plays in the field. Winning pitcher, Derek Klement fielded a shot back to the box by Kyle McKone and Colby Haynes tracked down a towering pop fly by Derek Corbett to end the game. Derek Klement pitched a great game for the Eagles when he was inserted into the game in the 2nd inning. Derek would allow six runs on only four hits while striking out six over five innings of work. Starting pitcher, Brandt Herbert pitched well for the Dairy Queen over four innings. Tyler Brackett and Derek Corbett each pitched one good inning as well keeping the game close for DQ and keeping it very exciting for the fans. Offensively, the Eagles were led by Jack Shibles with three hits including two doubles. Cam Morrison and Michael Young were once again repeat hitters for the Eagles. Josh Rowe, who was held to one hit, finished with eleven hits in the playoffs to lead the way for the Eagles. Kyle McKone and Brandt Herbert were repeat hitters for the Dairy Queen while Derek Corbett provided the hardest hit ball of the evening, a long home run in the 3rd inning. The Eagles finished in 4th placed during the regular season, but peaked at the right time winning four straight in the playoffs and seven games overall. The Eagles defeated the Lions 8-6 to open the playoffs, then defeated top Ranked Sappi 10-2 and the Dairy Queen 19 to 8 to get to the finals. Dairy Queen advanced to the finals by defeating Messer and Phoenix Welding twice. Members of the Dairy Queen team were: Derek Corbett, Brandt Herbert, Cooper Mullet, Parker Lowell, Tyler Brackett, Jake Leblanc, Austin Fecteau, Sam Larose, Kyle Mckone, Brad Wallace and Ray Shurburn. Randy Corbett, Mike Mullett and Tom Larose coached DQ and their manager was Jeff Herbert. Member of the Eagles were: Cam Morrison, Michael Young, Josh Rowe, Jack Shibles, Derek Klement, Elijah McBarron, Jack Pecoraro, Carter Cornish, Colby Haynes, Nick Hutton and Dylan Dipietrantonio. Jim Young, Chris Klement, Geno Pecoraro and Mark Haynes coached the Eagles and their manager was Rick Knight.
_________________________

City Champs
Regular Season Standings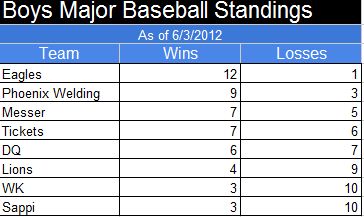 2012 LL PractSchedulefinal